May 11th, 2020
Announcement from the Director
Almost there, the dance floor's calling!
After the survey and receiving phone calls, emails and text messages, it's clear most of our parents and students would feel more comfortable starting back at a date later than May 26th. With that being said, we will absolutely start back Monday, June 8 UNLESS the virus dictates otherwise.
If we change the start back date again, we will contact you all directly and post updates to the website accordingly. In pushing the starting date back to June 8th, we at Art In Motion agree that it would give us more time to see if the virus continues to decline and help keep us all as safe as we can be while we all wait this out.
Starting back on Monday, June 8th, allows us 9 weeks to prepare for recital, which is the same amount of time we have had for all our recitals in the past. Students are allowed to miss two (2) weeks of lessons and still be able to attend the recital.
Recital Information
---
We will have one show this year on Sunday, August 16th, at 4:00pm, and one dress rehearsal on Thursday, August 13th, times TBD.
Recital Tickets
Recital tickets will go on sale July 20th, 2020.
Recital Pictures
Recital pictures will be taken at the studio by appointment only, and scheduled at times and on dates closer to recital. Details will be given out in July.
Recital Costumes
Reminder: if you feel your child will outgrow costume please bring to studio when we reopen and I will try to exchange. If we're unable to exchange the costume, we recommend two great seamstresses from our studio we have relied on in the past, and their contact information will be provided to those upon request if and when need be.
2021 Recital
The big cat's officially out of the bag! Our 2021 recital will be based on The Lion King, titled "Circle of Life". Life, just as the show, must and will go on!
Dance Class Updates and Notices
---
Our classes will be smaller this summer. If possible, we might combine those classes when and where we can. I will consult with each parent individually to ensure feasibility, consensus, before making and announcing any such changes. For the first week back we will go by the regular schedule.
All Kinderdance Classes
To cut down on contact with our Kinderdance classes, we will alternate Ballet and Tap lessons as follows:
Kinderdance Ballet: June 8th, June 22nd, July 6th, July 20th, August 3rd
Kinderdance Tap: June 15th, June 29th, July 13th, July 27th, August 10th
We will send out emails prior to each week to remind you:
which shoes your child should wear before bringing them into the studio
to label your child's water bottles with their full name
to leave dance bags at home, bringing with you only the correct shoes and a single, labeled water bottle
We will have a station set up where water bottles will be placed, and the station itself will be cleansed with disinfectant as well as flashed with UV light to ensure all microbial nasties are removed and incapable of lingering at the station itself. The UV wand we will be using does not cause harm upon human contact and may be used by parents at the station if they wish, and is designed specifically for close-contact sanitation. It will not be used on any children at any time, only objects at the station once children are well away from the station itself.
Online Video Classes
We will be released the third session of online instructional videos this week, and again will continue to keep releasing these bi-monthly for the remainder of the season leading up to the recital. Specifically:
Session #1: April 13th, 2020 - April 27th, 2020
Session #2: April 27th, 2020 - May 11th, 2020
Session #3: May 11th, 2020 - May 25th, 2020
Session #4: May 25th, 2020 - June 8th, 2020
Session #5: June 8th, 2020 - June 22nd, 2020
Session #6: June 22nd, 2020 - August 6th, 2020
Session #7: August 6th, 2020 - August 15th 2020
Parent Dance
Schedule for rehearsals will be provided when we return. In the meantime, for those that have access to the online instructional videos, keep practicing ?
Account Registration and Access Links
All families who have paid tuition currently have accounts, and those accounts have access to their respective classes
 

Class pages may be accessed by clicking the class link on the class page
 

For those who haven't activated their account, please check your email inbox and spam folder for an email from Art In Motion that contains a link you may click to set your password for your account
 
If you click on a class and receive an 'Access Denied' page instead of the class page videos and content, make sure you're logged in to your account
 
If you are completely lost or confused, please email kelly.storm@artinmotion.studio and we will get you sorted out quickly and accordingly
April 20th, 2020 - 11:30pm
Rolling Status Updates
172 families and their students have registered and been added to their respective classes, and 7 are currently being vetted or processed at the moment. Please remember to visit the classes page and click on your class link to view the class instructional videos.
All of you can't come to the dance floor right now, so fine - we're bringing the dance floor to each and every one of you. :)
-k
Instructional Videos and Classes Now Online!
Art In Motion YouTube Channel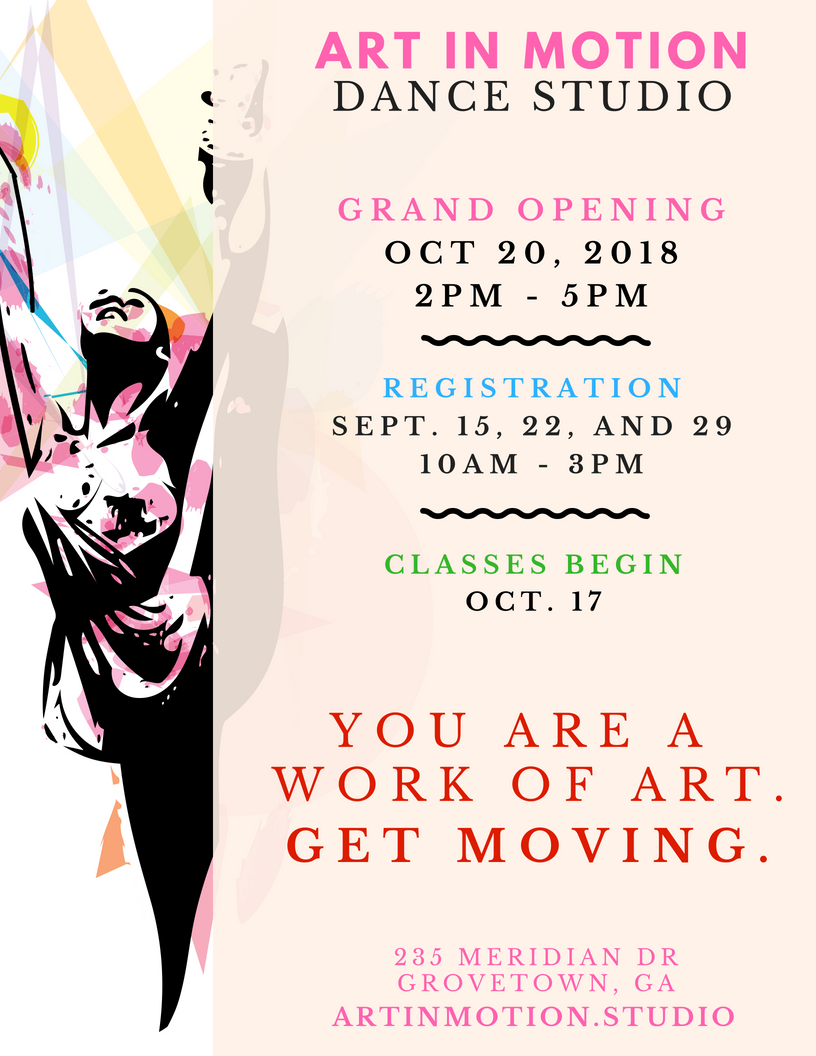 ANNOUNCEMENT FROM THE DIRECTOR
March 16
Due to Columbia County School closing March 18, I have decided our studio will remain open through March 21. We will close March 23 - April 12. Please check back frequently for updates. Emails will be sent out today March 16 with detailed information to our studio family.
Hey Mrs. April! I just checked out your website and I just want to personally let you know how proud I am of you! You are truly inspiring trusting in God's plan and following your heart and dreams. I think your studio will be hugely successful, but most of all i know you'll make such a positive impact on another generation. You are awesome!! And a testament to that is your staff who is thrilled to get to work with you again! I hope i can attend recital.
A dance studio is where your heart has always been. It's the gift God gave you, and I love that you honor Him by using it to bless so many!
So as one of your former dance students, your lasting laughter and love lives on in me. I love you just as much today as I did then. You were made to dance  I hope we read articles about you still dancing when you are 101!!
So so excited for you April Storm-Hartsell the Lord has used you to shape so many children and their families over the years and I know there are many more you will touch. You teach so much more than dance you show God's love and it radiates. I am thrilled other families will get the blessing my girls and I got from you at dance so many years ago!
Congratulations!! We had many wonderful years when our daughters were growing up with you as their dance teacher.  To a new beginning!
I loved having you as a dance teacher! :) I hope both of my daughters will dance at your studio one day!
Riley was tickled pink to meet her dance teacher. So excited for all the precious moments to come! Feeling honored and blessed that my baby girl gets to learn from the legendary April Storm Hartsell
Good  luck on your new adventure. This exciting news made me think of all the lovely young people you and dance have assisted through the years. Kerri and I chat about her time dancing with you quite often. The confidence and growth Kerri gained from dancing has been one of the most grounding beneficial parts of her childhood boosting her future forward.  Best of luck to you. The kids of Grovetown are in for a life changing experience.
April you taught me how to dance...and well...that IS your calling in life!! Not only because YOU are an amazing dancer but because of the passion and love that YOU put into it!! I can't wait to see what unfolds and the beautiful dances you and the other choreographers will come up with.  You have amazing teachers and I am so happy to know that you are doing this!! I miss dancing so much and can truly say because of YOU and what you taught me, I have been truly blessed!! Love you!!
Send Us A Message!
Need information that isn't on the website? Contact us at Support@artinmotion.studio or call 706.910.1155 during regular business hours.!